The mission of Residential Engagement Communities is to create intentional communities by developing relational leaders and building a bridge between academic interests and a meaningful residential experience.
Residential Engagement Communities include Living Learning Communities and Theme Housing.
---
Theme Housing follows a student-led, staff-advised format that relies heavily on the entrepreneurial spirit of students to form and run their own communities.
Under the guidance of a faculty or staff adviser, student groups will develop their own programming and take part in campus opportunities to create an immersive living and learning experience.
Students living in Theme Housing share responsibility for developing a thriving community and meeting community goals.
A formal leadership role known as the Theme Program Adviser maintains the programming, recruiting, and administrative expectations for their Theme.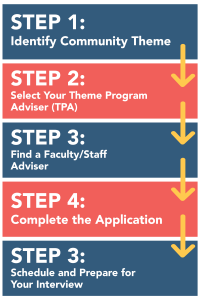 DATE
DESCRIPTION
February 7, 2022
Applications Due at 8:30am.
Must include a list of Prospective Members including: Name, Email Student ID#, Gender, & Phone Number
February 8 – 10, 2022
Presentation/Interviews with Residence Life and Housing
February 11, 2022
Offers Extended (including housing location assignment)
February 16, 2022
Deadline to Accept or Decline offer (Accepting an offer includes agreeing to your assigned theme location)
February 18, 2022
Rosters Available
March 4, 2022
Rosters Due
Dates subject to change; any updates will be communicated directly to REC applicants. 
Questions?
If you have questions regarding the application process or presentations interview, please contact Kelsey Hansen, Assistant Director of Academic Initiatives and Engagement at hansek@nullwfu.edu.