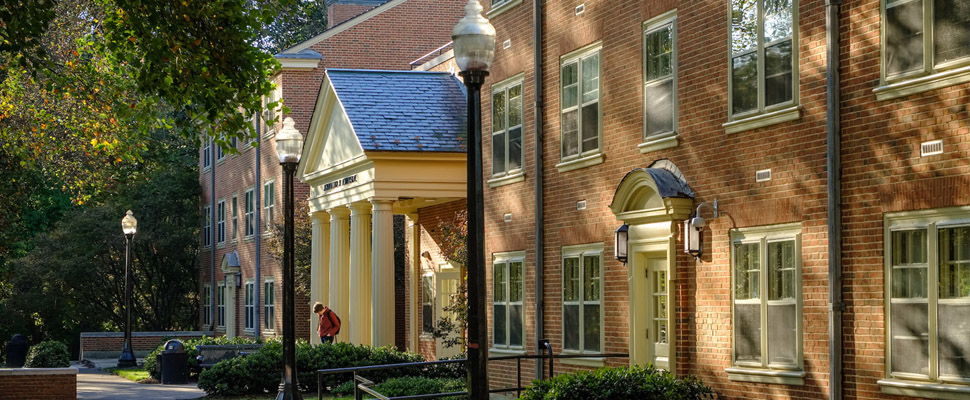 Luter Residence Hall is named for Joseph Luter, a 1961 graduate of Wake Forest. Best known for establishing a sausage empire, he is one of the University's most important benefactors. The combined corridor / suite-style residence hall houses co-ed students. Luter is one of Wake's only halls which houses a mixture of continuing and first-year students. A diverse living environment, Luter residence hall includes large TV, study, and social spaces. It also houses the lounge for Alpha Phi Omega, a national service fraternity.
For immediate assistance during business hours, please contact the Office of Residence Life and Housing at 336.758.5185. If there is an emergency or for after-hours assistance, please contact Wake Forest University Police at 336.758.5911. 
Location
Gulley Dr.
Winston-Salem, NC 27106
Office Location
First Floor – C101
Style: Hall
Gender: Coed
Capacity: 277
Room Details
Average Room Dimensions: 15′ L X 12′ 6″ W X 8′ H
Window Size: 2′ 6″ X 4′, Blinds
Floor Covering: Vinyl Plank (Wood Look)
Wall Color: Off-White
Multi-port Wireless Access Point: One
Electrical Outlets: 4-6
Heating & Air: Individual
MicroFridge®: One Per Room
Sinks in Room: Yes
The measurements for the items listed above are general in order to help visualize rooms. Every room is unique and varies in dimensions, sometimes greatly.
Hall Details
Year Built: 1971 / Updated  2021
Capacity: 277
Fire Safety: Smoke Detectors, Sprinklers, Fire Alarms
Hall Staff: 15
Amenities: Greek service organization lounge, spacious social lounge
Hall Staff (SPRING 2022)
Community Director:
Graduate Hall Director:
Resident Advisers:
Oryann Addison
Jaylynn Alexander
Anne Chen
Patrick Cheon
Tyler Curtis
Jolie Dumay
Maysaa El Ibrahim
Cameron French
Mari Hill
Aditya Jamwal
Lubei Liu
Riley Moran
Charity Osbourne
Jian (Daniel) Ruan
Siddarth Subramanian