Main Content
Once you arrive on campus, there are many important amenities and services you can utilize.
Campus Resources      Winston-Salem Information
Cable and Televisions
The on-campus housing package includes access to the campus cable TV network, however, students must bring their own television(s). More information about cable television and the current channel line-up can be found on the Information Systems website.
Laundry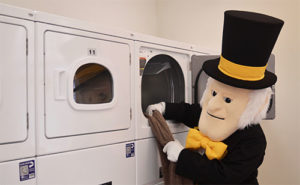 Laundry rooms are located in each residence hall and are open 24 hours a day. Washers and dryers may be used at no cost to residents. The on campus washers and dryers are high efficiency and the appropriate high efficiency (HE) detergent should be used. Additional information about laundry facilities can be found here.
Information on independent laundry services, such as Wake Wash, can be found on the Campus Resources page.
Mail Services
Wake Forest Post Office
Benson University Center, Room 101
(336) 758-5281
Mail Services, located on the first floor of the Benson University Center, provides incoming and outgoing mail and shipping operations for the University community. This includes providing:
A full array of services from USPS, UPS and FedEx
Mailing supplies and package preparation services
Student mailboxes, which are also located within the Mail Services' facility
For more information including how to address mail, hours of operations, and more please visit the Mail Services website.
Parking and Vehicle Registration
Any student who wishes to park a vehicle in a university parking lot at any time of day or night, including after 4:00 p.m. weekdays, on weekends, during regular weekday business hours of 8:00 a.m. – 4:00 p.m., and during breaks must register that vehicle with Transportation and Parking Services. For more information including how to register and permit rates, please visit the Transportation and Parking Services website.
Telephone Services
All residence hall rooms are equipped with the capability for VoIP technology. Students needing local phone service and voicemail in their residence hall room may request a VoIP phone by contacting Residence Life and Housing after their arrival on campus at 336.758.5185 or housing@nullwfu.edu. Note: There are additional charges associated with telephone service.