Main Content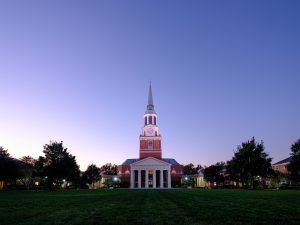 October brings with it cooler weather, and a shift in our planning towards wrapping up the fall semester and preparing for a successful spring semester. Please be sure to review the details from our office below.
RA Recruitment
At WFU, the Resident Adviser (RA) position is the premier position on campus and the ultimate internship for your student. The RA position offers high-level experience, critical thinking and references for every resume whether you are Pre-Med major or on the Business Track! To be an RA at WFU is to be a leader, role model, and community builder. RAs create programs that enhance community, build positive relationships with residents, and create a safe environment where residents have opportunities to grow academically and socially.
We provide our RAs with help developing their resumes, as well as weekly 1:1s with a Masters level, professional staff member, and personal support for the challenges that they navigate during college. RAs also receive great benefits such as a private room, reduced rate room, and a 10 month stipend!
Being an RA is truly transformational both personally and professionally, but don't take our word for it, check out what our current RAs have to say about the role with the video on our website! The RA application is now live and will remain available until 12.10.20 at 11:59 pm.
Take the leap, ask your Deacon to dRAft their future with us, we promise it will be worth it.
Health and Safety
Our residents received a message on October 5, 2020, related to Health and Safety Reminders. Due to the COVID-19 pandemic, our staff will not be completing our traditional inspections. Instead, we are asking that each student take a few minutes to review the checklist of items included in the message.
Weekend Disinfecting
Our residents received a message on October 8, 2020, addressing questions have been asked as to what is being done on the weekends in residential facilities. Custodial Services have employees disinfecting high touch points and bathrooms once each day on Saturdays and Sundays. When work is being completed in the bathrooms, custodians knock and announce themselves so that residents in these spaces are aware of the custodial staff's presence. Typically, custodial services are in and out of a bathroom in a minute or less, depending on the size of the bathroom. This work includes the custodian flushing the toilet(s) as they are disinfected.  The bathroom work completed on the weekends is only completed in residential facilities where custodial staff services bathrooms on the weekdays.
Petition to Stay
Our petition-to-stay process is now available via our Housing Portal at go.wfu.edu/housingportal under the Winter 2020 section. Any student who needs to stay beyond 5 p.m. on Tuesday, November 24 will need to petition to stay. Petitions are due by 11:59 p.m. EST on Sunday, November 1, 2020. As a reminder from the University's Fall 2020 Updates sent in July:
If a student petitions and is approved to stay on campus through the Thanksgiving holiday and finishes the semester on campus, they will not be eligible for the 10 percent refund. To protect the health and safety of our students, faculty, and staff, students who are approved to remain will be required to demonstrate that they did not leave the immediate Winston-Salem area during the Thanksgiving break.
Petitions to stay will be reviewed by a committee of staff from Residence Life and Housing, Campus Life, Financial Aid, and International Student and Scholars. The review will take place between Nov. 2 and 6, with decisions being sent out by Monday, Nov. 9. Additional details about the petition process can be found in our message to our residents from October 13.
Important Dates
With the University's announcement about the spring calendar, we have updated our important dates which can be found here. Please refer to these dates as you plan with your student for their arrival to and/or departure from campus.
Stay Connected
Be sure to follow us on social media to keep up with the latest happenings from our office. You'll also be able to learn more about the RA role from current staff!
---
As always, if you have questions or concerns please don't hesitate to contact us at housing@wfu.edu or 336-758-5185. Note our office closes daily between 1 p.m. and 2 p.m. for a wellbeing hour.