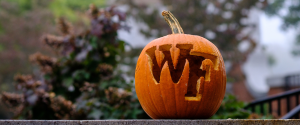 As you've probably heard from your students working their way through midterms, we've just crossed over the half-way point of the Fall Semester. This time of year, we encourage residents to begin thinking ahead to breaks, next semester, and how they might want to get more involved in their community.
Of particular importance for those students who may be looking for a change in housing this spring are the Spring 2022 Housing Processes available starting this week. For your reference, and should your student need a second set of eyes or ears while navigating their choices, please see a brief description below:
Spring 2022 Housing processes run from

Oct. 15 to Nov. 1

.

Students looking to change rooms on-campus for the Spring 2022 semester may submit a request.

Students who want to live off-campus early will enter an

Off-Campus Lottery rather than submit a petition.

Students with vacancies should either pull in a roommate of choice or expect a student may select that space during Spring Only Housing Selection. 

Spring Only Housing Selection

for students returning to campus will take place on

December 8 (selection times are Eastern Time)

.
For those parents of Juniors (#WFU23), especially those who may be abroad this fall, the off-campus lottery (which replaces the petition process in years past) may be of particular interest. If your student is studying abroad with an affiliate program and may not be especially tapped into messages from campus at the moment, encourage them to read through this email. 
You can read the full message about these processes here. 
If your student is looking for the chance to accrue a wide variety of invaluable professional skills and experiences, all while connecting to the Wake Forest community, encourage them to think about applying to become a Resident Adviser with our office. Information about the process can be found here, and the video below provides insight into the experience from current RAs. 
Over the next month, any students who have not yet received their flu shot should work to become compliant and make sure they've provided documentation to Student Health Services. From their website: 'All members of our community are required to get a flu shot and submit documentation by December 15, 2021. You can fulfill this requirement at your doctor's office, a pharmacy, or at Student Health Service.'
Wake Forest will offer an on-campus influenza vaccine clinic on October 25-26 from 8:30 a.m.-1:30 p.m. The on-campus clinic is free for students. Sign up here.
Finally, for your reference, below you'll find a reminder of key housing dates across the next few months:
November 24-28: Thanksgiving Break (Residence Halls remain open)
December 12:  Winter Break begins

Residence halls close @ 2 p.m.  

January 8 – January 9: Residence Halls open for all students.
As always, we hope to hear from you should you have any questions or feedback. We're available during the week at 336-758-5185 and via email at housing@wfu.edu.