Main Content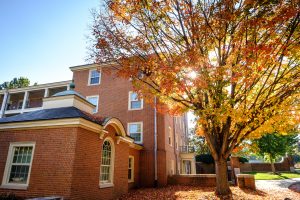 With November well underway on campus, the leaves are turning and the campus is looking as beautiful as ever! Our teams are focused on wrapping up the Fall Semester as students plan to leave on November 24. For details on the Winter Break Departure plan, please visit our Winter Break Departure page.  A limited number of students will be changing rooms between November 16 and 20 as a part of our Winter Pull-In Process; additional details can be found here.
RA Selection Reminder
Being an RA is truly transformational both personally and professionally, but don't take our word for it, check out what our current RAs have to say about the role with the video on our website! The RA application remains open until 12.10.20 at 11:59 pm. Take the leap, ask your Deacon to dRAft their future with us, we promise it will be worth it.
Fall 2020 Refunds
As communicated in July, due to the special nature of the Fall 2020 semester taking place during the COVID-19 pandemic, we have created two processes for refunds:
If conditions require a closure of campus, refunds of certain fees, if applicable, will be issued in accordance with the University Disruption Refund Policy. This refund schedule is a tiered percentage based on the number of whole or partial weeks (Sunday-Saturday) that campus was open.
– or –
When students leave campus at the Thanksgiving holiday and complete the remainder of the semester from home, they will receive a 10 percent refund of certain fees, if applicable.
Our Student Financial Services team oversees the refund process and additional details can be found on their Coronvirus page.
Spring 2021 Housing Intent and Selection
All undergraduate students must complete their Spring 2021 housing application prior to Monday, November 16 at 8 a.m. EST. To complete their housing application, students need to visit our Housing Portal at go.wfu.edu/housingportal. Students will flow through the housing application based on their Fall 2020 status (i.e. on-campus, off-campus, remote).
Students planning to return to University housing in Spring 2021 will participate in a housing selection process in early December 2020. Additional details will be provided to those students via email soon.
Key Dates
November 24: University housing (residence halls on campus, roadhouses, and Deacon Place)  closes at 5 p.m.

Students approved for extended stay remain in their on-campus housing.

December 13: Students not approved for Winter Break Housing must depart University housing by noon.

Students approved for Winter Break Housing transition to University hotels.

January 23: Move-in for students who are new to University housing for the Spring semester.

These students will need to schedule an appointment and follow the same expectations as fall move-in.

January 24-26: Students may return to University housing once all pre-arrival expectations have been fulfilled.
Stay Connected
Be sure to follow us on social media to keep up with the latest happenings from our office. You'll also be able to learn more about the RA role from current staff!
---
As always, if you have questions or concerns please don't hesitate to contact us at housing@wfu.edu or 336-758-5185. Note our office closes daily between 1 p.m. and 2 p.m. for a wellbeing hour.