As Move-Out draws to a close for the semester, we want to say congratulations! Both you and your student navigated a year full of unique challenges and concerns, and we are grateful for your partnership and feedback while navigating what a residential experience looked like alongside COVID-19 considerations.
We particularly want to take time to congratulate the Class of 2021! For those of you with students who are graduating, we hope you know that both you and your Deac will always have a home away from home here in Winston Salem. 
Of the Class of '21, we want to give a special thanks and congratulations to all of our graduating RA's and Graduate Hall Director. See a full list of #TeamRLH graduates here.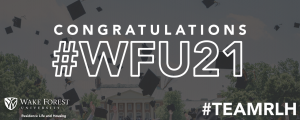 HOUSING SELECTION
For continuing students, please keep in mind that Housing Selection is set to occur next month. If you or your student continue to have questions, please feel free to reference our recorded information session from earlier in the semester, which goes into detail around each step of the process and what your student can expect.
For those still looking for roommates or thinking through who they want to add to their housing group, we recommend continuing to utilize the RoomSync app and linked resources at go.wfu.edu/roommate. Please keep in mind that all continuing students who have not fulfilled – or been released from – the residency requirement are expected to participate in selection; those who do not will be assigned housing by the RL&H team.
Class of 2025
For those of you with incoming students, please note that the Housing and Dining Application, as well as their photo for their Deacon OneCard ID, are all due on June 4th.
The Housing and Dining Application can be accessed via the Housing Portal. (Please note that only your student can access this link, via their '@wfu.edu' email address)
Please feel free to continue to reference the Incoming Student page on our website for any questions you may have and to begin to plan for your move this fall.
We hope that you have a wonderful start to your summer. Please remind your student to stay tuned to future communications from our office to their '@wfu.edu' email address for reminders around selection and updates for returning this fall.