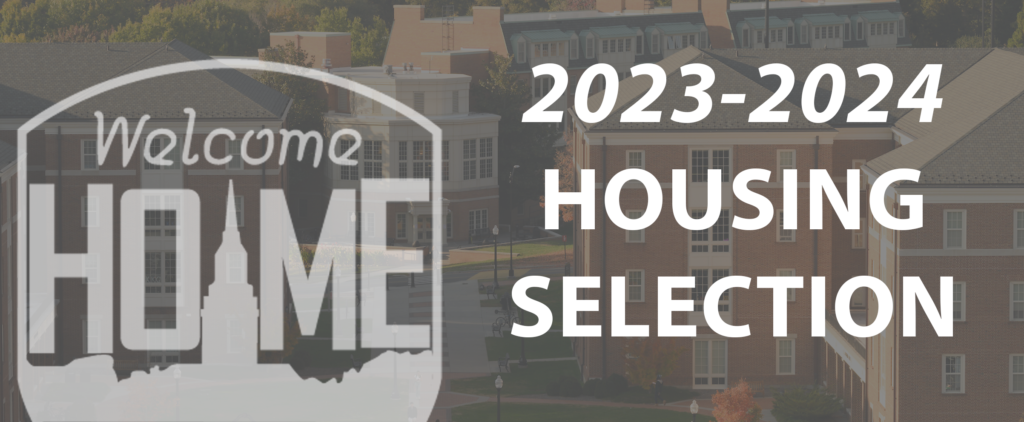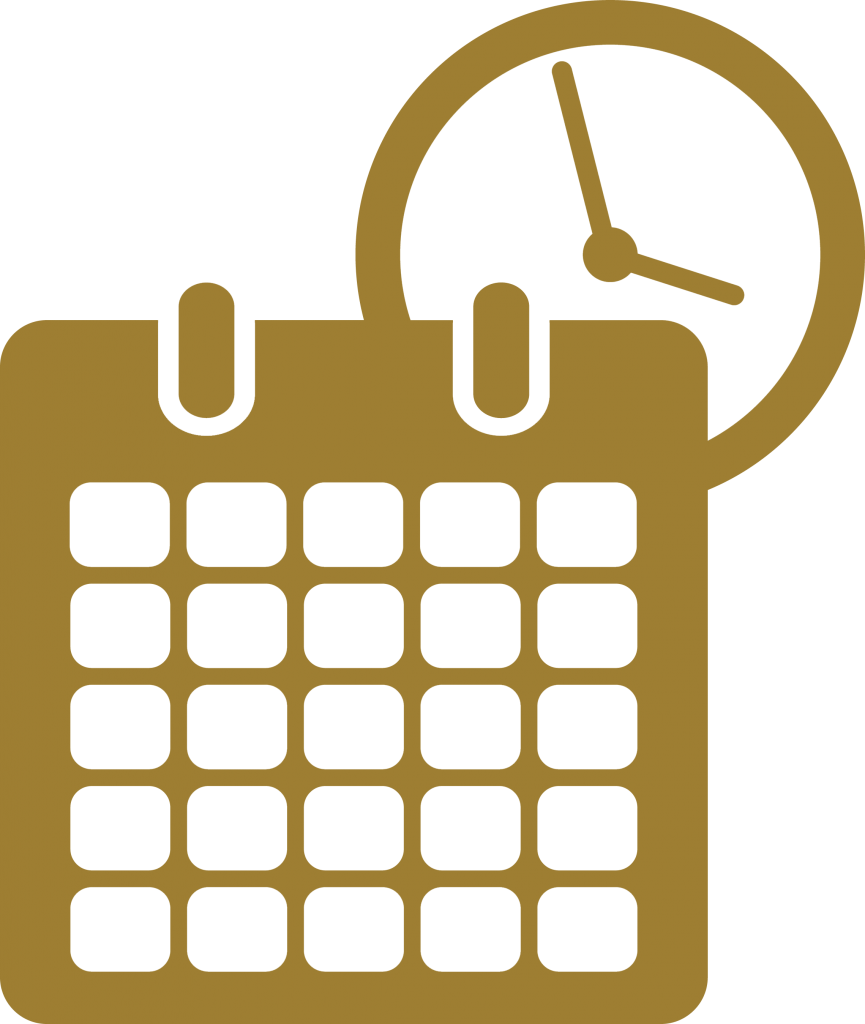 IMPORTANT DATES
January 2024

Details will be released regarding the Residential Engagement Community (REC) and Student Organization block processes
January 22- the 2024-25 Housing Application opens, including Off-Campus Lottery and Senior Intent (i.e., rising seniors indicate where they wish to live – on campus or off)

February 2024

February 12 @ 9 a.m.

REC applications and block requests due (groups will receive follow-up as needed)
Deadline for entering Off-Campus Lottery; outcomes will be communicated by Feb. 23
Deadline for rising seniors to express interest in living on-campus

February 28

Deadline for disability-related accommodation requests and supporting documentation

March 2024

March 8 – Block Rosters (Greek, Athletic, REC) Due
March 18-22 –

Appointments will take place for students with Disability-Related Accommodations
Students living in RECs or Blocks complete their housing/meal plan via the Housing Portal
RAs and students being pulled in by an RA complete their housing/meal plan via the Housing Portal
Room Availability List Posted by March 22

March 25-28 – Housing Selection
*Please note that we recommend using a pencil not a pen when adding these dates to your calendar. Though we've taken a great deal to provide accuracy for the upcoming year, dates are subject to change as needed should institutional changes impact the 24-25 academic year dates. Check back here regularly as we near key dates and deadlines and be sure to check your WFU email for the most updated information.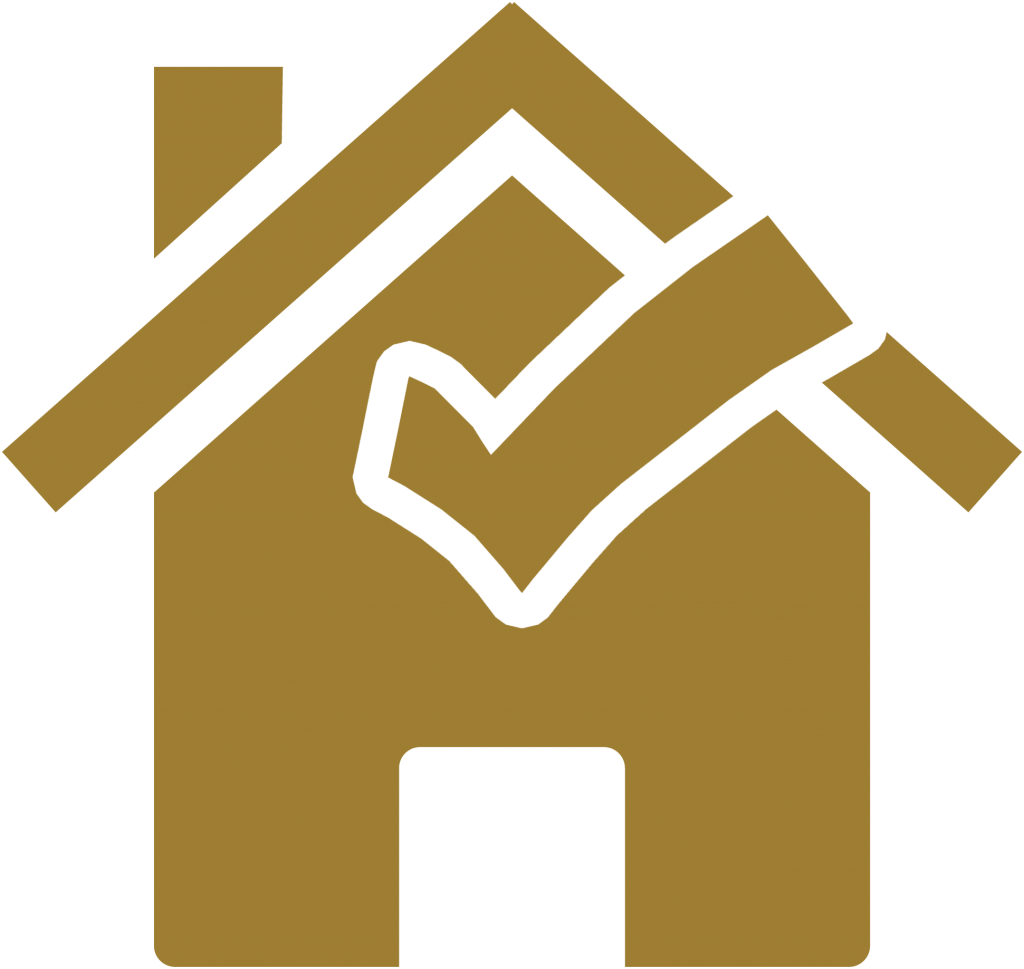 Want to learn more about selection this year?
We encourage attending a Housing Selection Information Session to learn more about the process and visit Find Your Way Home for detailed step-by-step guides for completing the Housing Selection Process.
THE SELECTION PROCESS
Completing a housing and dining application is required each year.
To participate in the housing selection process, students must first update their profile information in the Housing Portal.
Plan ahead with those you want to live with about where you would like to live. A group leader should invite others and form a housing group.
Before the group's selection time, each person will need to log in and accept their invitation in order to be pulled in during selection.
---
Keep in mind groups looking to select multiple occupancy apartments/blocks/rooms must fill all beds in the apartment/block/room at the time of online selection.
The way a space is listed on the availability list and/or in the selection portal is fixed and will not be reduced in size.
Selection times are randomly generated based on the number of semesters you have lived in university housing.
The earlier your time, the sooner you are allowed to participate and the more room options you may have.
The earliest selection time within each group will represent that group.
Students who are not guaranteed housing (including non-resident students, students beyond their 8th semester in housing, etc.) will not be issued a selection time and are not eligible to participate in the General Room Selection process.
If you have a disability-related housing accommodation on file, someone from the Office of Residence Life and Housing will contact you to schedule a meeting to select your housing.
The earlier your selection time, the sooner you are allowed to participate and the more room options you may have.
A list of available rooms, including the type and occupancy of the room, and independent blocks will be posted and updated frequently during the selection process. Review the availability list regularly as you get closer to your selection time.
---
Have a backup plan should your first choice (or second or third) not be available when your selection time comes.
Review our community pages and the Guide to Community Living for information about the different communities around campus.
You (or your group leader) will log into the housing portal at your selection time on your selection date and select the housing, placing all members of a group in their beds for the coming year.
---
Help Desk
During General Room Selection, the Office of Residence Life and Housing will provide a help desk during all room and dining selection processes. Here staff members will be available to provide personal, one-on-one assistance for any student who would like help.
Note: On a case-by-case basis during room selection, the Office of Residence Life and Housing may allow a student to delete an active assignment and select again if the student made an error or mistake in the selection process
Selection By the Numbers
Thinking about group sizes and where to look? Use this guide to help get you started!
Note: This guide is pulled from our most common floor plan numbers – reference against the availability list to see what's actually available before your selection time.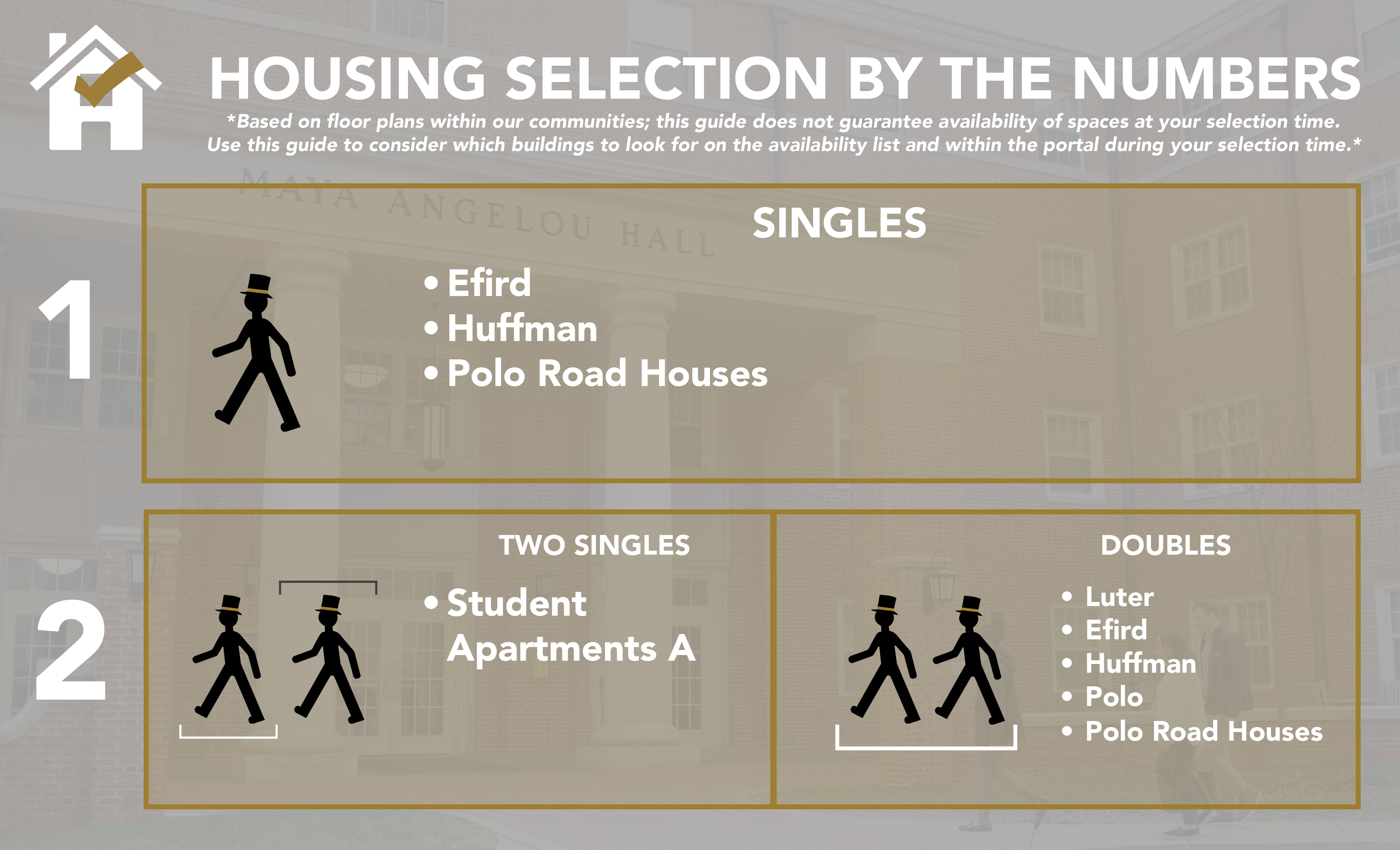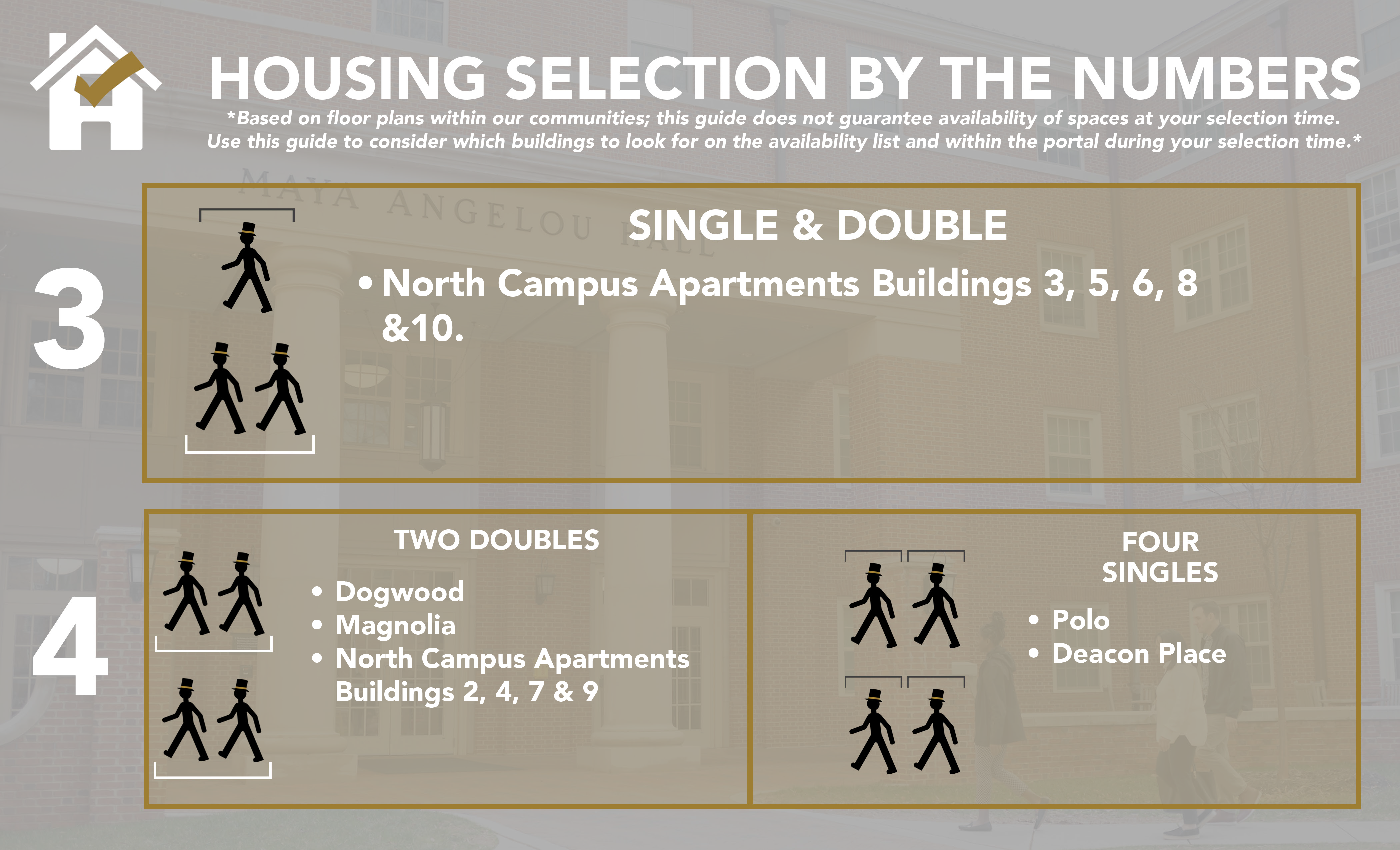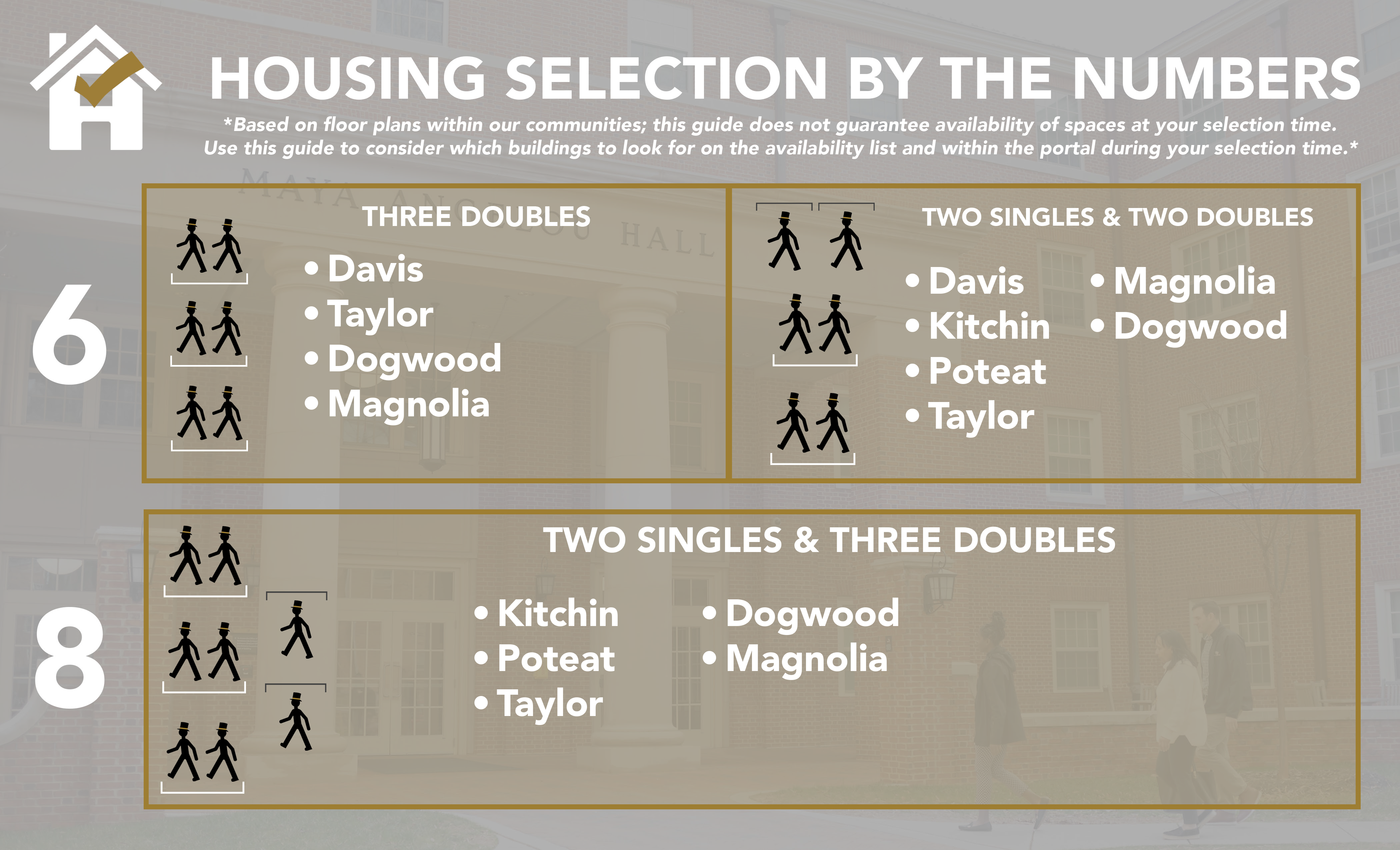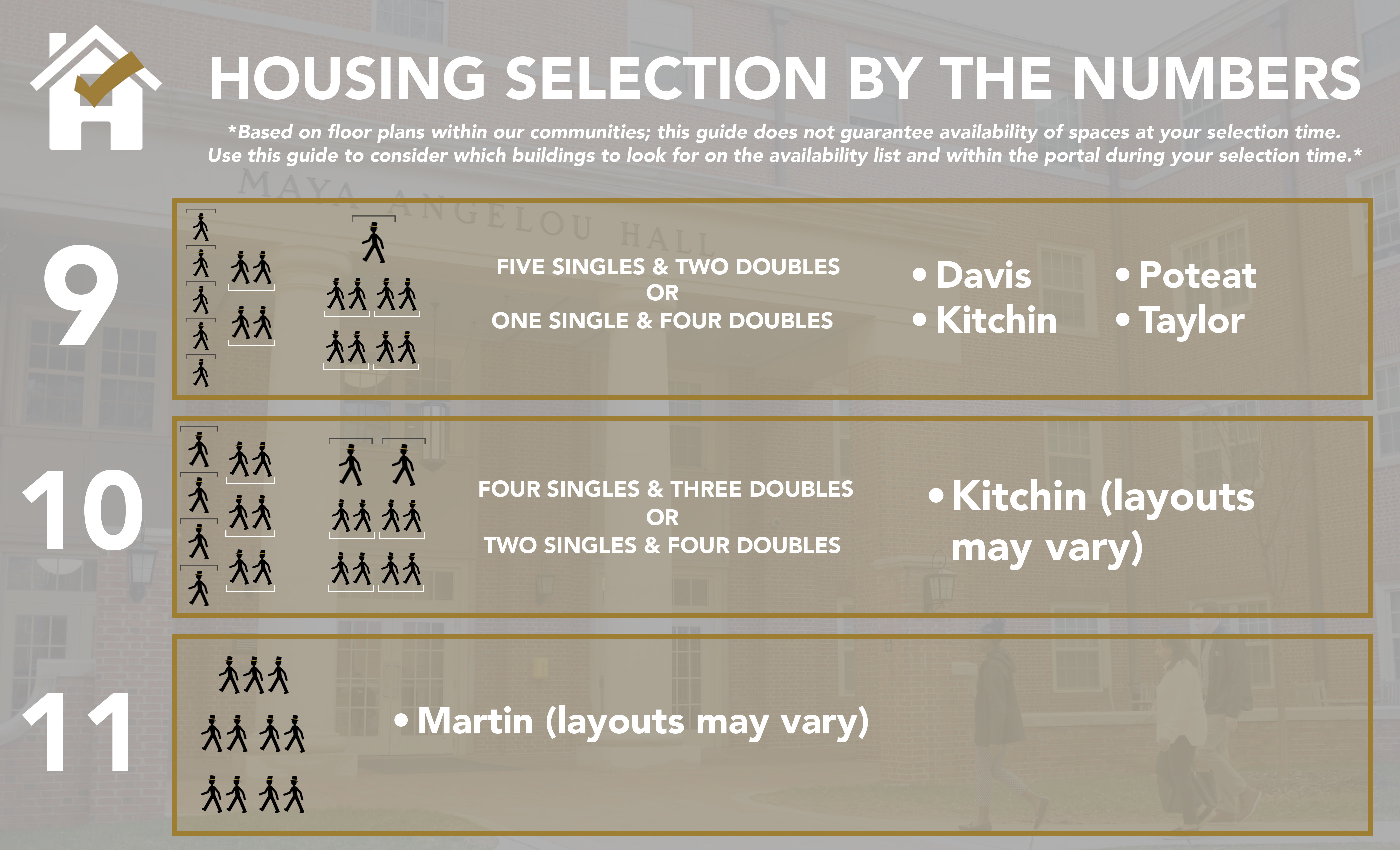 THINGS TO KNOW
Wake Forest University views living on campus as integral to a liberal arts education and the Wake Forest experience. In support of that view, the University has a six-semester residency requirement.
Those with 6+ housing credits (typically seniors), will be asked to express their intent to live on or off campus for the upcoming academic year. Those who do not express an on-campus intent by the deadline will be assigned an off-campus application.
Occasionally there are times when there are more students guaranteed housing than spaces available in the residence halls.
In the event, this does occur double rooms that were previously triples (or rooms that can accommodate three people) may be converted to triple occupancy, single rooms that were previously double rooms may return to double occupancy, and designated floor lounges may be converted into student rooms.
Housing charges will be adjusted for those students whose room occupancy changes due to an expanded occupancy situation.
Under no circumstances will a student who selects for a group of residents during housing selection be allowed to change rooms between selection and the Fall Semester. The earliest opportunity for a room change for those students is the Winter Room Change process.
Unapproved room changes may result in a fine, return to the original assignment, and loss of opportunity to move during the Open Room Change process.
Members of the apartment/block/room may have the first opportunity to fill vacancies that may occur during the year by pulling in a roommate of choice.
If a single room becomes available within a block/suite/apartment, students currently living in that space will typically have the first opportunity to fill the single, prior to it being generally available for room changes.
There is a second round of the room selection process which occurs during the middle of the summer each year. All students who are required to live in campus housing, but do not select during the first round of housing selection, are automatically placed on the list to select during the second round. Again, this is a normal part of our assignments process and occurs each year.
During the summer, rooms open up across campus for a number of reasons, including when students decide to go abroad or transfer. After allowing time for these changes to be processed, unused spaces are made available alongside those which were not yet selected in our second round of housing selection. Students on the list for the second round will receive an email with a selection day to go online and select at that time.
During the second round of selection, students can plan to select a single bed or to look for open doubles in a roommate group of two people.
SPECIALTY HOUSING
Wake Forest University offers our All-Gender Housing pathway for continuing students who choose to live in mixed-sex living units. These living units may be apartments, suites, houses, or rooms in areas of residence halls with private bathrooms (toilet and shower areas).
When selecting All-Gender Housing, it is important that students keep these items in mind:
Students agree to All-Gender Housing for the academic year with limited options for room changes.
Residence Life and Housing may consolidate students in all-gender housing in the event of unfilled spaces.
Students are encouraged to be mindful of who they choose to live with. Residence Life and Housing discourages students in romantic relationships from living together; additionally, students are encouraged to consider carefully when sharing living spaces with their closest friends.
For questions, concerns, or assistance with the All-Gender Housing process please contact any of the following individuals
Dr. Zach Blackmon (he/him/his), Associate Director of Operations, in the Office of Residence Life and Housing at (336) 758-5185 or blackmzr@wfu.edu; or
Kayla Lisenby-Denson (they/them/their), Director of the LGBTQ Center, at (336) 758-4917 or lisenbks@wfu.edu.
Fall Study Abroad
Students studying abroad during the Fall Semester will NOT select housing during Academic Year Housing Selection. Instead, students abroad for the Fall Semester will be required to select their housing for the Spring Semester ONLY online in December.
---
Spring Study Abroad
Students planning to study abroad during the Spring Semester should proceed with Academic Year Housing Selection for the Fall Semester. During the Fall Semester, our office will be notified by Global Programs and Studies that these students are going abroad and their Spring Semester housing will be canceled.
During the Spring Semester, these students will be able to participate in Academic Year Housing Selection for the following fall from abroad.
All students who will be living in a Residential Engagement Community must:
Complete the Housing Application
Provide your name and University ID number to the group leader.
Residential Engagement Communities (RECs) are considered on-campus housing and therefore subject to all regulations and guidelines as outlined in the Guide to Community Living, the Housing and Dining Agreement, and other housing publications. Some RECs may have additional requirements. Please contact the appropriate group contact if you are interested in Residential Engagement Communities.
By providing your name and University ID number, you are agreeing to live within that Residential Engagement Community for the entire academic year. Students choosing to live in RECs do not have the option of moving to other campus locations during the academic year. Please note that some RECs are co-ed; contact the appropriate group contact regarding the possibility of shared bathroom facilities. Finally, note that current RECs are not guaranteed acceptance for the following academic year.
Visit our Residential Engagement Communities page for more information.
If you are going to be an RA for the fall semester you will participate in this online process. When instructed, you will need to visit the housing portal to update contact information, select a meal plan, and accept the Housing and Dining Agreements.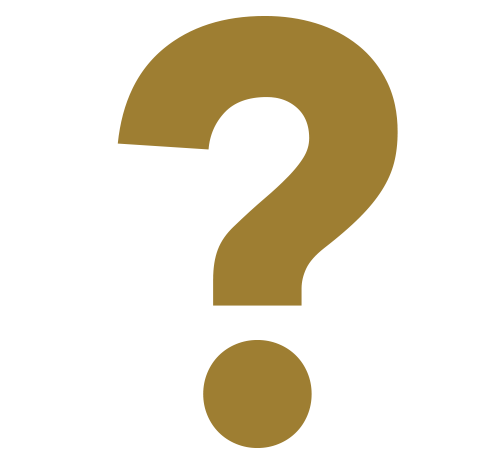 FREQUENTLY ASKED QUESTIONS
Want to read more?
---
Please contact the Office Residence Life and Housing at housing@wfu.edu or 336.758.5185 for further information.