Main Content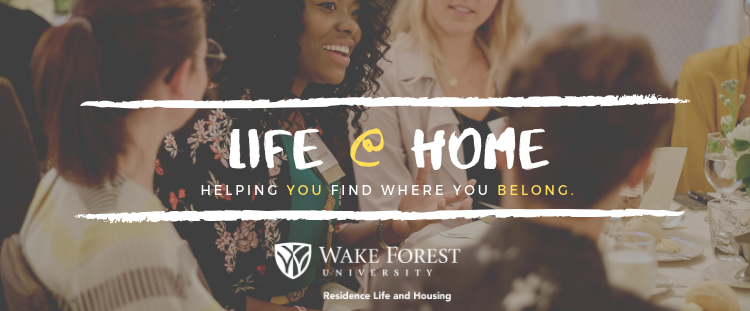 "Home is where life happens." – Joanna Gains
At Wake we believe Home is a place for friendships, laughter, challenge and growth. Home is a place where residents find a community to share life's highs and lows with. At home, there's a place for everyone. Always. Home is where life happens, more importantly, home is where your life happens.
Finding your place at Wake will take more than moving-in. There's no formula for friendship or ensuring the perfect 4-year experience, but there are intentional ways we can make Wake, Home. That's what "Life @ Home" is ALL about.
Commit to Finding Home
During the First Six Weeks of school, you will have the opportunity to explore your place @ Home through a series of exciting, interactive, late-night events in your community every weekend!
Take a chance. Be willing to try new things. If the first event you choose to attend isn't your jam, join us at a different event to find your niche! Trust us, there are plenty of events to choose from. Your people are out there. We are confident of that. Year after year, we have seen students build their home at Wake, make lasting friendships, and grow far more than they could have ever imagined.
We'll see you @ Home!