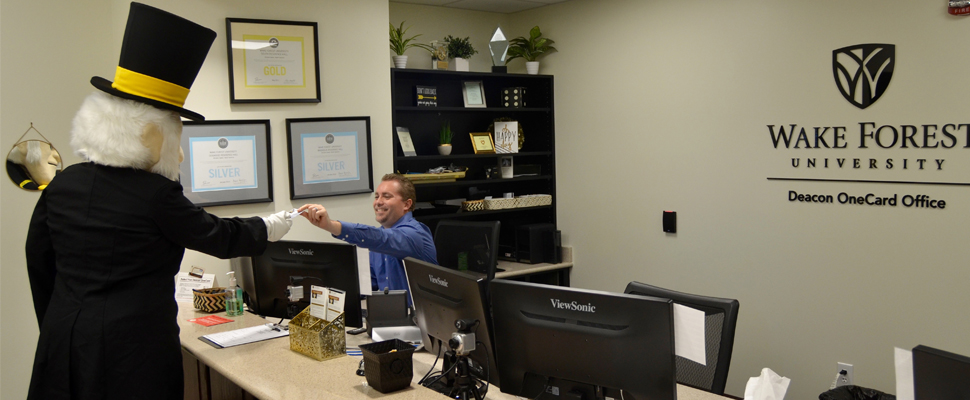 The Deacon OneCard is the official Wake Forest University identification card.  While primarily used for identification, the Deacon OneCard is also used for on-campus financial transactions, library privileges, event admission, and building access.
Deacon OneCard staff is also responsible for all aspects of Physical Security Technology for the Reynolda, Brookstown, and Charlotte campuses, athletic facilities, and other properties owned by Wake Forest University.  The team works with campus constituents to assess needs and identify solutions to protect the assets, facilities, and people at Wake Forest.
While managing a robust access control and video surveillance is a primary function for this team, they also oversee system architecture and design, project management, system maintenance, and alarm notification to University Police.
Some of our student services include:
Use Of Your Deacon OneCard
Submitting Your Photo
Getting A New/Replacement Card
Other Important Information
FAQs
Some of our faculty and staff services include:
Use Of Your Deacon OneCard
Getting A Deacon OneCard
Submitting Your Photo
Getting A Replacement Deacon OneCard
Requesting A Physical Security Technology Device/Project
Requesting An Affiliate Deacon OneCard
FAQs
*Requires prior authorization to access the Deacon OneCard portal.
Important Policies and Information